Concrete mixer is the equipment for making cement concrete. It can be sued for mixing dry and hard concrete, plastic concrete, fluid concrete, light aggregate concrete and various mortars. In addition, it is widely used in road construction, bridge construction, building construction and prefabricated components.
What Is Concrete Mixer?
A concrete mixer is a machine that mixes cement, sand aggregate and water and makes them into a concrete mix. It mainly consists of mixing drum, feeding and unloading mechanism, water supply system, prime mover, transmission mechanism, frame and support device. It is widely used in road construction, bridge construction, building construction and prefabricated components.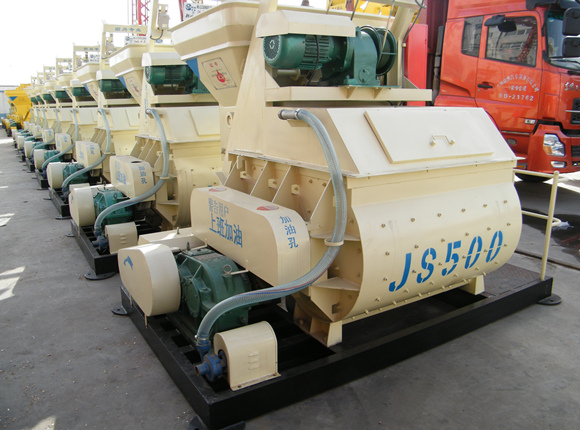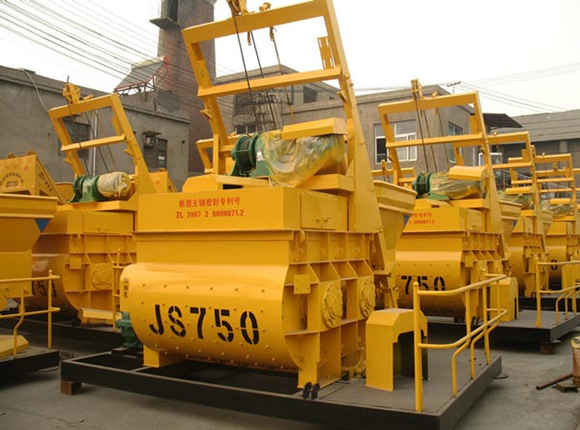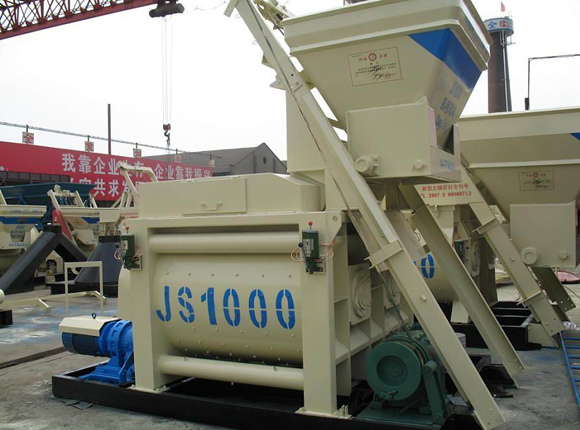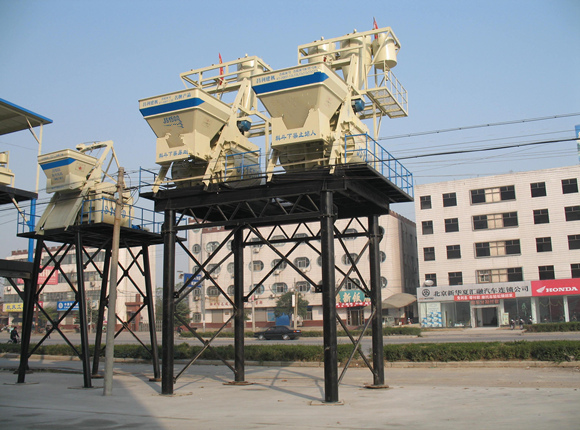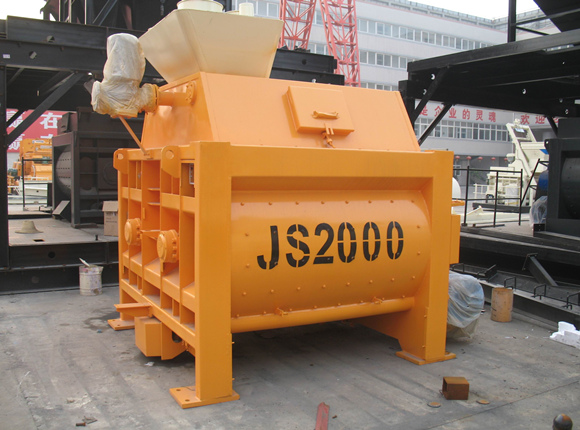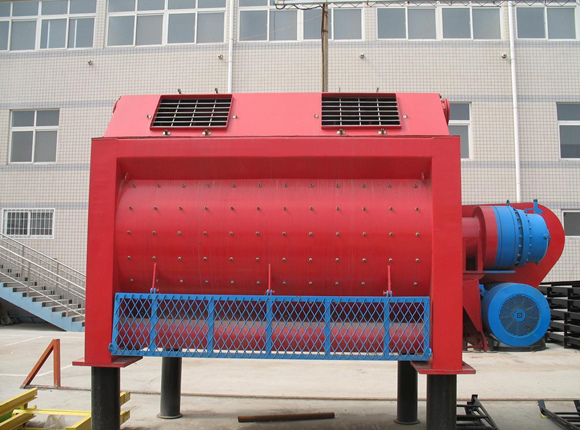 Concrete Mixer Types
There are many types about concrete mixers in our company. According to different forms, they have different classification of various mixers.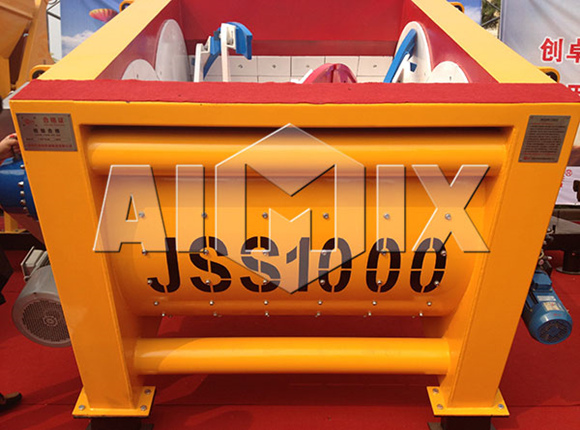 Operation Model
According to the operation model, there are divided into cycle operation and continuous operation model. The cycle type has three processes of feeding, stirring and unloading in the circulating operation model at regular intervals. They have good mixing quality. Continuous work productivity is higher than cycle work type.
Mixing Model
According to the stirring method, there are divided into self propelled mixer and forced mixer.
Device Model
According to the devices, there are divided into stationary concrete mixer and mobile concrete mixer. Stationary mixer is installed on a prepared basis and the whole machine cannot be moved. It has large volume and high production efficiency. It is mostly used for mixing buildings or mixing plants. The mobile mixer has a running wheel and small volume in size and light weight. So, the maneuver ability is good. It is used in small and medium-sized temporary projects.
According to the discharge method, there are divided into tilting type and non-tip type.
According to the shape of the mixing drum, there are five types of pear type, drum type, double cone shape, disc vertical axis type, and round groove horizontal axis type.
According to mixing capacity, there are divided into large type with discharge capacity 1000-3000L, medium type with discharge capacity 300-500L, and small type with discharge capacity 50-250L.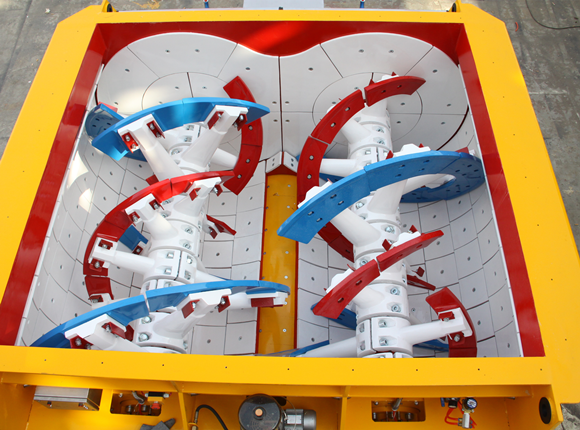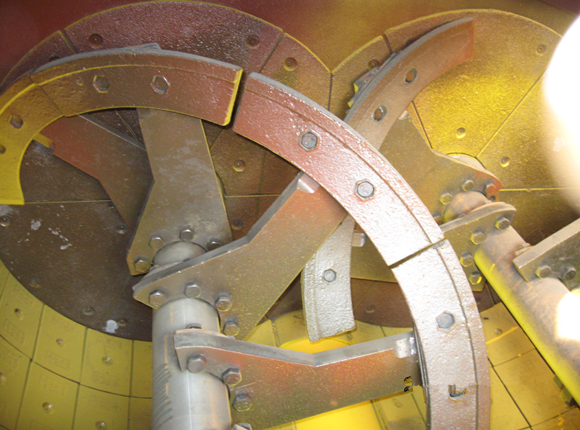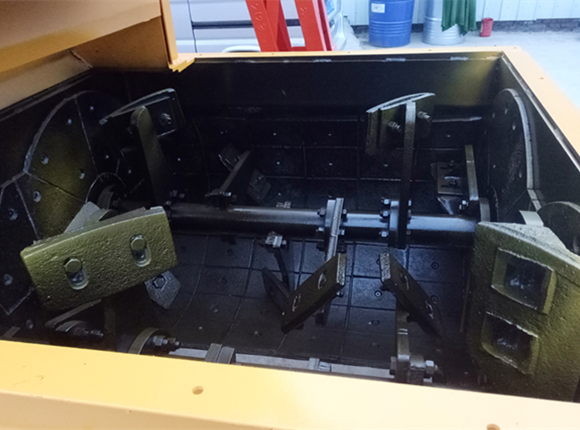 JS Concrete Mixer Components
JS concrete mixer consists of five parts including feeding, stirring, unloading, water supply and electrical system.
Mixing system
The mixing system is composed of a motor, a pulley, a speed reducer, an open gear, a stirrer agitating device, an oil supply device and the others. The motor drives the two stage gear reducer. The two shafts of reducer drive the two horizontal agitating shafts to rotate in opposite directions by two pairs of open gears.
Feeding System
The feeding system is composed of a hoisting mechanism, a loading frame, a hopper, a feeding nozzle and the others. When it needs feeding, the lifting mechanism drives the wire rope to crawl upward along the feeding frame rail through the pulley hopper. When the hopper is lifted to the feeding position, the front roller of the bucket bottom enters the horizontal ramp. As the bucket body rise, the material door gradually opens. The material in the bucket body is continuously put into the mixing drum through the medium and indirect hopper.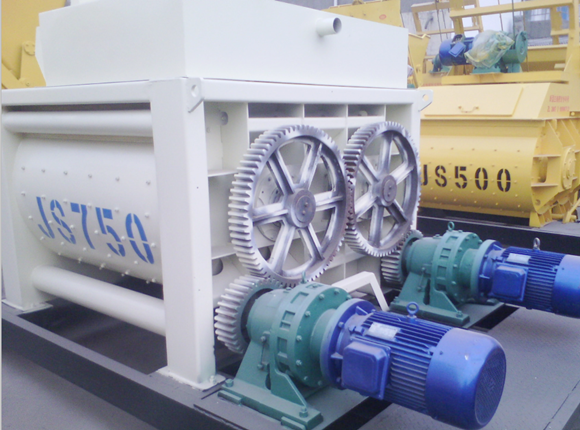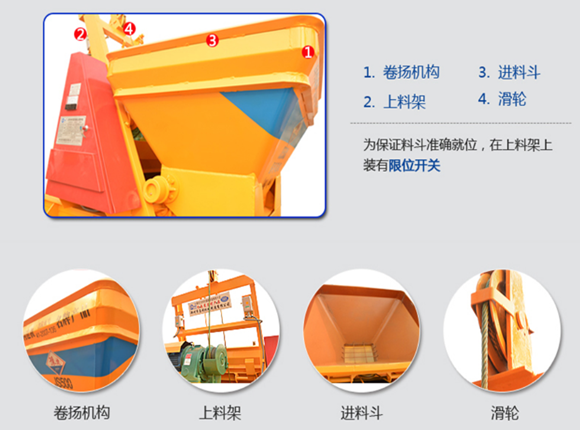 Water Supply System
The water supply system consists of a water pump, a throttle valve, a cleaning and a sprinkler. The throttle valve regulates the flow of water, and the total amount of water supplied is regulated by a time relay.
The Unloading System
The unloading system consists of a discharge door, a cylinder or a hydraulic cylinder. It has three structures with hydraulic control, pneumatic control, and manual control. During operation, the high pressure gas lead to the cylinder. The cylinder drives the swing rod to rotate the door body around the bearing seat, which achieves the purpose of opening and closing the door.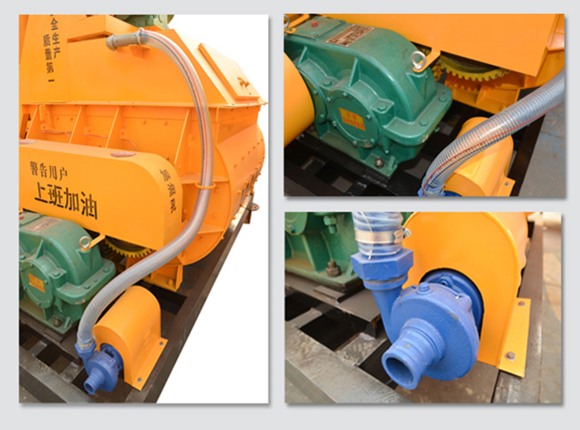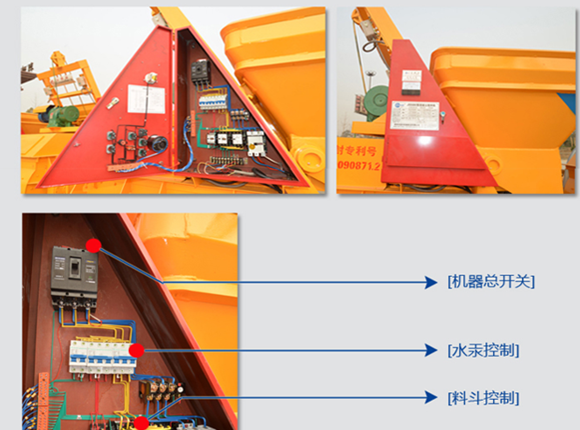 Electrical System
The electric control circuit is equipped with an air switch, a fuse, and a thermal relay. They have the functions of short circuit protection and overload protection. All control buttons and and air switch handles and indicators are placed on the distribution box door with a door lock. There is protective door outside the button. The electrical components in the distribution box are mounted on an insulating board, which is safe and reliable. It has easy operation and maintenance.
Concrete Mixer Capacity
In our company, there are many different types about mixers, which are very popular. There are JS series types, JSS series types, JZC series types, and JDS series types. The JS series includes JS500-JS4000. The JSS series includes JSS500-JSS2000. The JZC series includes JZC350-JZC500. The JDC series includes JDC350-JDC500. In addition, if the customers have needs, we can customize the standard or non-standard concrete mixers.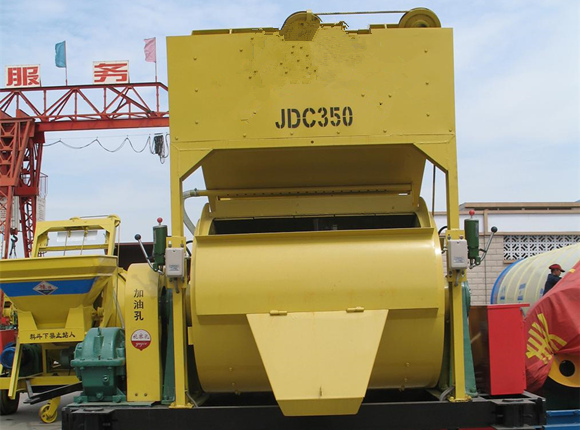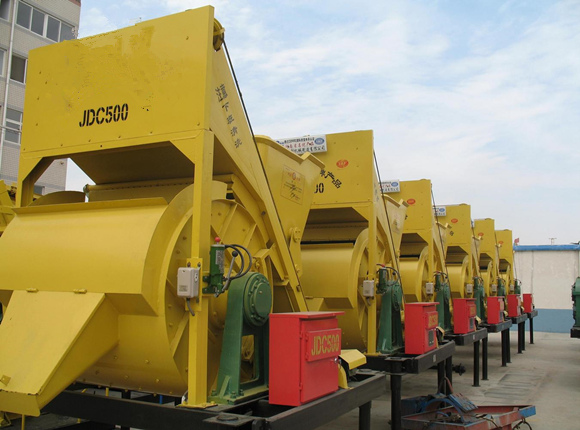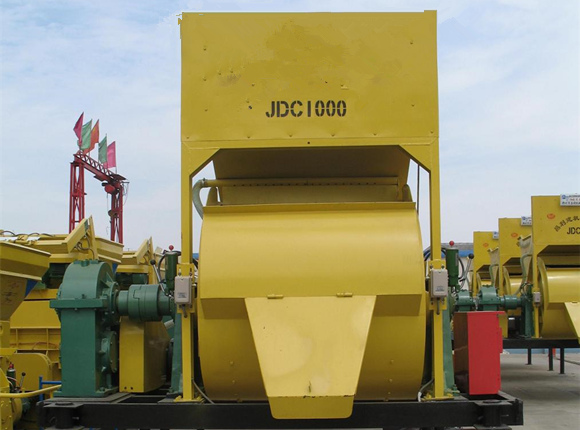 JS Concrete Mixer
JS series concrete mixers are the double-shaft forced mixer. They have the dual advantages of single machine operation and simple concrete mixing plant with PLD series batching machine. It can also provide supporting host for mixing plant. It is suitable for all kinds of large, medium and small prefabricated component plants and civil construction projects such as roads, bridges, water conservancy, docks, etc. They can be used to mix dry concrete, plastic concrete, fluid concrete, lightweight aggregate concrete and various mortars. In conclusion, it has extensive applications.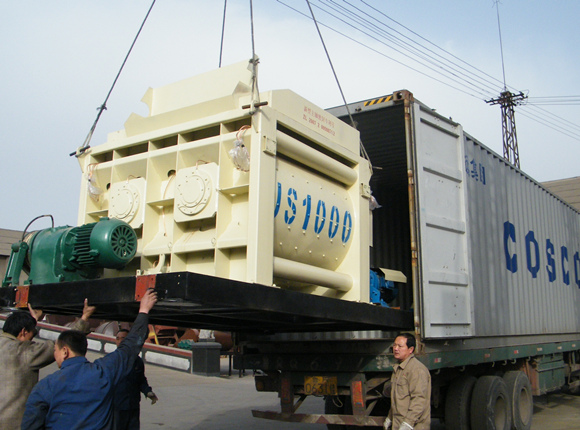 Advantages of JS Concrete Mixer
It has special reel, which makes the wire rope last longer.
It has precision machine parts.
It has high quality wear resistance alloy casting fittings and advanced production process, which ensures the uniform gap between the mixing blades and the lining.
Our production has the excellent performance of mixing equipment.
The advanced mixer design improves the mixing efficiency and product's reliability.
If the customers have the requirements, we can provide the guarantee for the users to produce high quality concrete.
Concrete Mixer China
These different products come from China. We adopt the standard design and advanced technology to manufacture various types of concrete mixers. So, our company's products have reasonable structure and high production efficiency. In addition, it has good mixing quality in the process of operation, which is favored by many users. If you want to get a professional concrete mixer, please choose professional manufacturer and good brand – Aimix Group. If you have time, please visit our factory in China.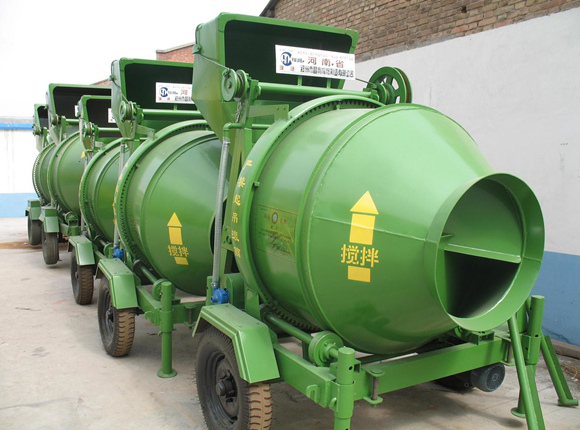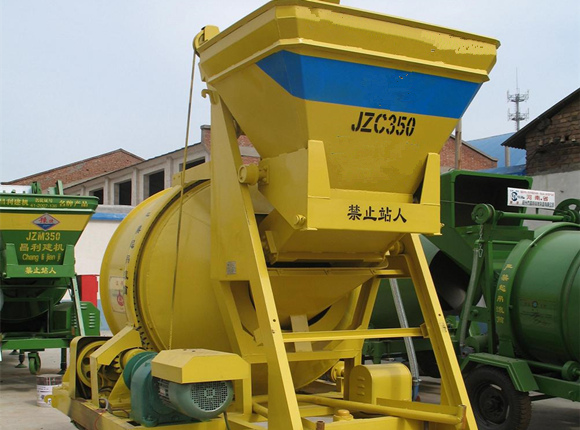 Concrete Mixer Machine Manufacturer
As the reliable and professional mixer machine manufacturer, we have the standard technology support. We will be eager to serve you with high quality brand awareness and warm and thoughtful service. In addition, we have excellent after sales service. If you have some problems about concrete mixers machine, please get in touch with us as soon as possible. We will help you deal with a series of problems.
Concrete Mixer For Sale
If you are interested in our products, please get in touch with us as soon as possible. We have various products such as concrete batching plant, asphalt plant, self-loading concrete mixer, dry mortar plant, concrete mixer, cement silo, and other construction machines. If you want to get customized products from our company, please contact us.