Self loading concrete mixer price is determined by many factors, including the machine sizes, different parts configuration, concrete mixing capacities, diverse functions, shipping cost,arrival ports, and so on. Therefore, AIMIX GROUP gives you a fully detailed explainations about the best solutions for your purchasing plan with a lower self loading mixer price in Malaysia.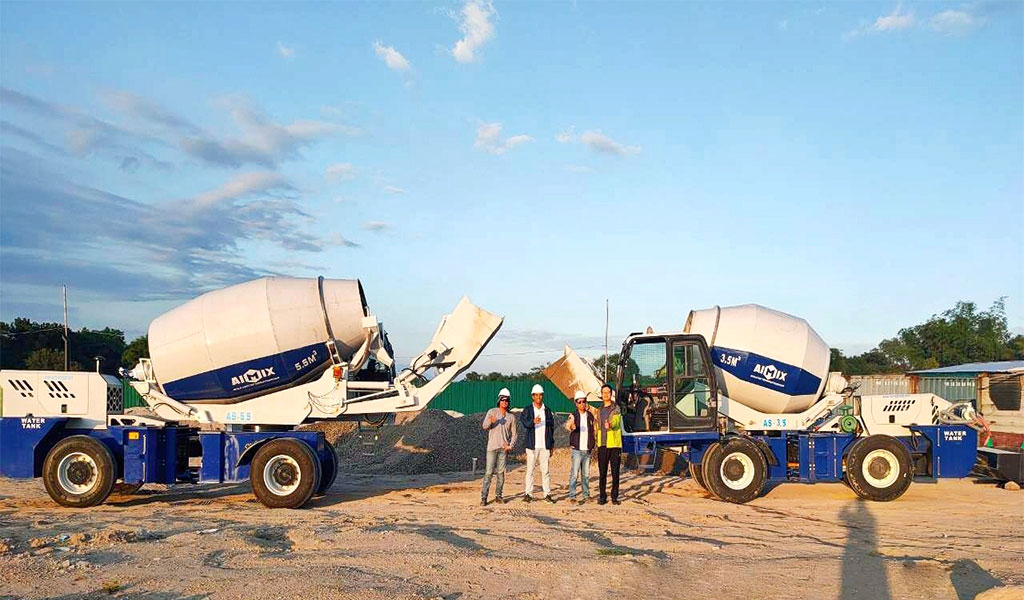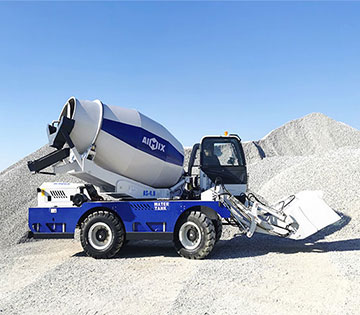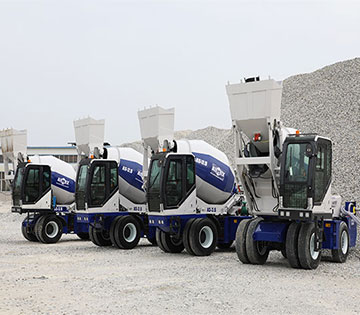 What Is Self Loading Concrete Mixer?
Before we analyze the price of self loading concrete mixer, we need to know clearly what is it? Actually, self loading mixer is an auto loading concrete truck that can self weigh and load aggregate materials by a bucket, self carry and load water to the mixer drum, self stir the concrete, self carry the ready-made concrete, and self unload the concrete out. It is worth mentioning that all of those operations are completed by itself. In other words, it can save 6-8 workers to do those work. Hence, it is widely used for batching and placing of concrete for various construction projects, for example, foundations construction, houses building construction, road paving construction, prefabricated concrete products production, and so on.
What Are the Factors That Can Effect The Self Loading Concrete Mixer Price?
Here I will list the factors that can influence the self loading concrete mixer machine prices in Malaysia. We are open to further discussions on the cost of our machines after you check the below points. And I will send you more details once I hear from you.
Different Concrete Output Capacities

1. In AIMIX GROUP, there are AS-1.2, AS-1.8, AS-2.6, AS-3.5, AS-4.0, AS-5.5, and AS-6.5 self-loading mixture machines for sale. And each of them has different concrete output capacities. In other words, each of them has its own cost. Therefore, I can not give you a number here for the price.
2. For example, AS-3.5 can produce around 3.5 cubic meters of concrete for each time, and is cable of manufacturing about 16m3 concrete for per hour.
3. In addition to this, the discharging capacities of their mixer drum are also different. AS-3.5 can discharge 3500L concrete for one time, and AS-4.0 can unload 4000L concrete for one time.
4. Therefore, the different output capacities will lead to different prices. Contact us if you want more specifications of our mixer machines now and our sales will reply you with full details of price catalogs.


AS-3.5

AS-4.0

Different Machine Configuration

1. In AIMIX GROUP, we can supply you customized services for each of clients according to different requirements.
2. For example, there are four-wheel steering and two-wheel steering self-loading type mixers for sale in AIMIX GROUP.
3. Besides, the cabin is also can be specially made with a fixed position or with a rotating position. In other words, the cabin can be fixed on the chassis or moved along with the mixer drum. What is more, you can choose to fix the cabin on the left side or the right side according to your habits.
4. Apart from this, you can pick up the options to add an air conditioner in the cabin or not in line with your needs.
5. Thence, tell us your actual need so that we can provide you with a unique solution and design for you now. And then we can give you the relevant self-loading mixer price according to the configuration.


Different Shipping Solutions

1. AIMIX has a 60-people after-sale service team who can help you design the most cost-effective way to deliver the machine to your hand.
2. Our after-sale service colleagues usually choose the most time-saving and cost-saving transportation methods according to your arrival ports in Malaysia. No matter which ports you need to deliver the goods to.
3. As we all know, there are three shipping types, railway transportation, car transportation, and shipping transportation. AIMIX can make a solution for you in line with your requirement for delivery time or when your construction projects start.

Different After-sale Services in Malaysia

1. Since AIMIX supplies many different after-sale services, you can choose one to suit your needs.
2. For example, AIMIX provides TURNKEY service in Malaysia. We have several experienced local partners who can be in charge of the whole service process, including custom clearance services, product delivery services, machine installation services, maintenance services, and technology training services.
3. You can choose one or two or even all of those services to help you save more time. Please let us know if you are interested in those services in Malaysia.

Promotions

AIMIX will launch some promotions and discounts for buying our self loading machine for some festival activities or Ramadan activities. Therefore, you can pay close attention for these news or just contact us now to check if there are any discounts for you.

Conclusion

Since there are so many elements that can affect the harga self loading concrete mixer in Malaysia, you need to firstly contact us and tell us what your projects are, which city you wnat to deliver the machine to, what concrete outputs you require for your daily need, and what extra design you want to add for your unique need, and what service you want from Aimix. Hereafter, our sales will reply to you with an appropriate solution to suit your demands. However I list some models specifications below. Send your inquiry now!