Self loading concrete mixer for sale is a unique concrete mixer for sale in Malaysia with the combinated functions of self-loading, self-weighing, self-mixing, self-transporting, and self-discharging. Aimix self loading concrete mixer has several batching capacities ranging from 1.2m3, 1.8m3, 2.6m3, 3.5m3, 4.0m3, 5.5m3, and 6.5m3. With 4 wheel drive and 270 degree rotating mixer drum, it is suitable for vaious construction projects at rough terrains and mountain areas. AIMIX GROUP has over 1000 local agents spreading across Malaysia and other countries, and local parters for after-sale support both in western Malaysia and eastern Malaysia.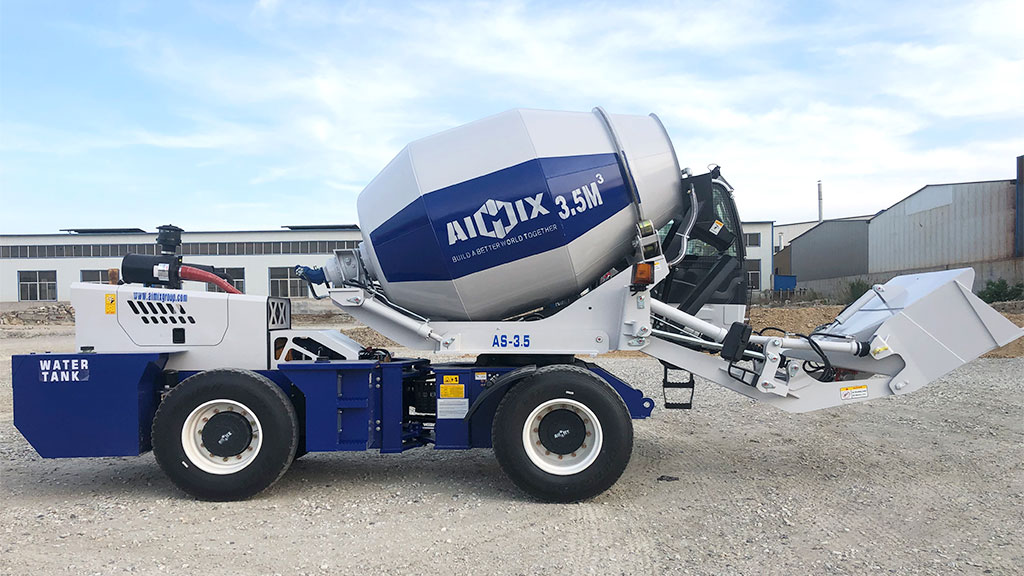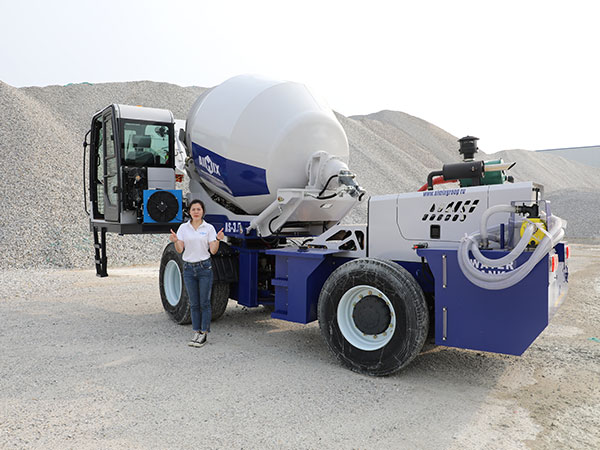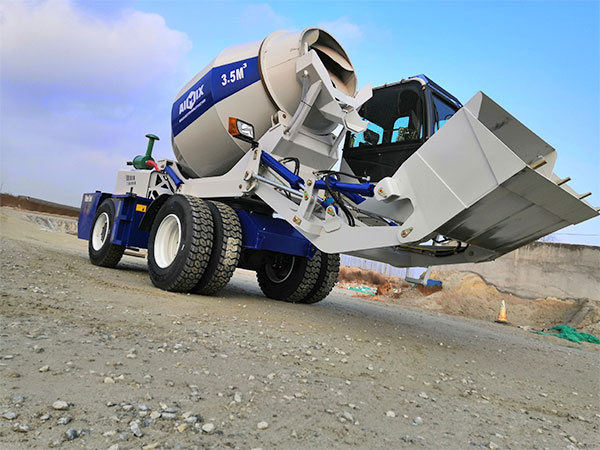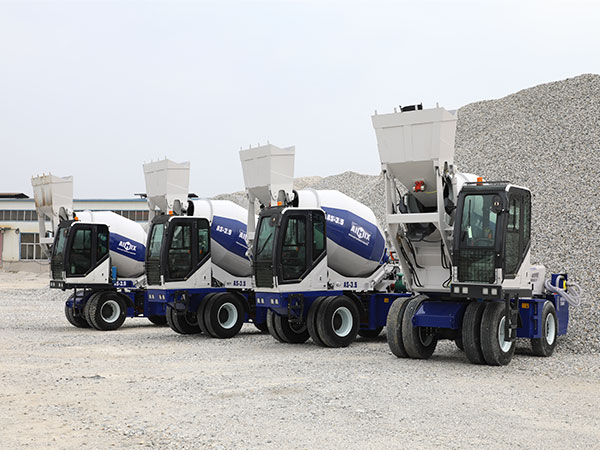 3.5 Cubic Meters Self Loading Concrete Mixer Working in Malaysia
Capacity: 14(m3/h)
Discharge Capacity(L): 3500
Concrete output(m3/h): 14
Rated Power(Kw):85
Gear: 2 Forward 2 Back, Front Wheels Steering
Main Parts:
Truck chassis, 4 wheels, loading bucket, mixer drum, water tank, operator cab, weighing system, control system.
Self Loading Concrete Mixer Yield
There are three types of self loading concrete mixer for sale in AIMIX GROUP, and they are mini type, medium-sized type, and large type. Among those different types, all of them have different mixing yields and I will show you detailed specifications below.
1. Mini self loading concrete mixer refers to AS-1.2 and AS-1.8, and their concrete yields are seperately 1.2m3 and 1.8m3 concrete per batch. In other words, their concrete output capacities are 4.8m3 and 7.2m3 per hour. It is suitable for mixing sand and ash for sidewalk brick laying construction, mixing concrete and sand for city garden engineering projects, producing masonry mortar for small-sized construction projects, and so on.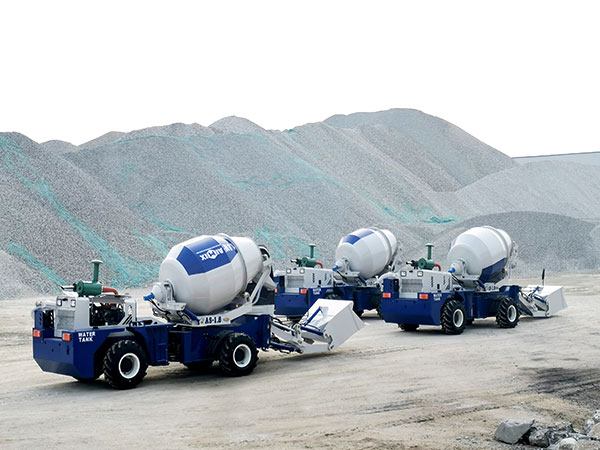 1.8m3 Self Loading Mixer for Sale
Capacity: 1800(L)
Model: AS-1.8
Discharging Capacity(L): 1800
Concrete Output(m3/h): 7.2
Engine Model: Yuchai 4102 Turbo-Charged
Gear: 2 Forward 2 Back, Front Wheels Steering
2. Medium-sized self loading mixer for sale has AS-2.6, AS-3.5, and AS-4.0 in AIMIX. And they can yield 2.6m3, 3.5m3 and 4.0m3 concrete for each batch within 15 minutes. Therefore, they can produce 10.4m3, 14m3 and 16m3 concrete at per hour. Hence, it is a perfect equipment for making ready mix concrete for precast concrete slabs or other precast products, medium-sized or large-sized municipal engineering projects, small water conservancy projects, rural self-built house construction, house renovation construction projects, sewer construction works, foundation pouring works, and so on.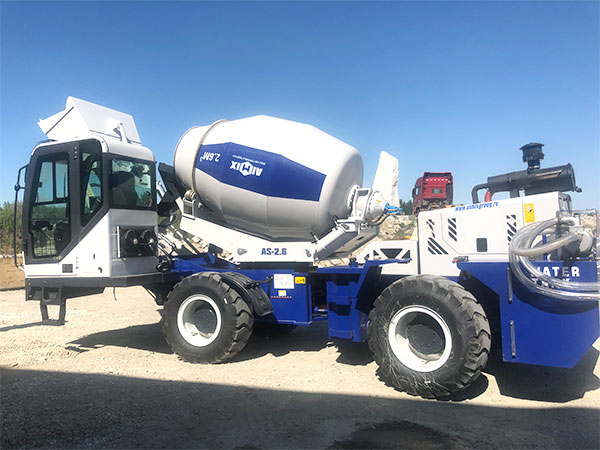 2.6m3 Self Loading Mobile Concrete Mixer for Sale
Capacity: 2600(L)
Model: AS-2.6
Discharging Capacity(L): 2600
Concrete Output(m3/h): 10.4
Engine Model: Yuchai 4102 Turbo-Charged
Gear: 2 Forward 2 Back, Front Wheels Steering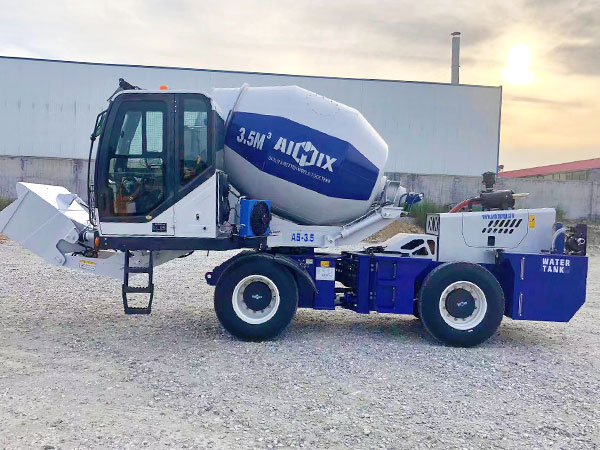 3.5m3 Self Loading Concrete Mixer Machine
Capacity: 3500(L)
Model: AS-3.5
Discharging Capacity(L): 3500
Concrete Output(m3/h): 14
Rated Power(Kw):85
Gear: 2 Forward 2 Back, Front Wheels Steering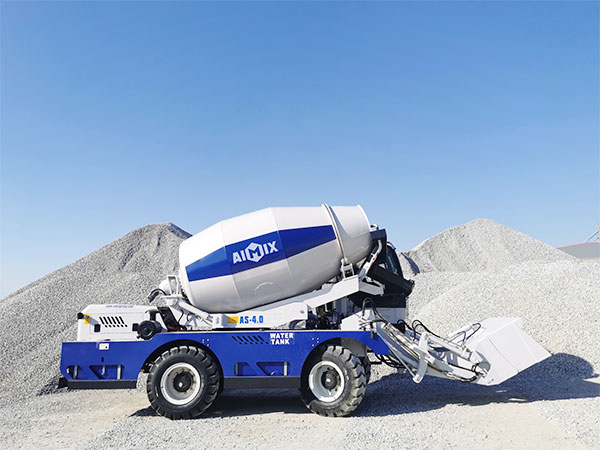 4.0m3 Self Loading Concrete Mixer
Capacity: 4000(L)
Model: AS-4.0
Discharging Capacity(L): 4000
Concrete Output(m3/h): 16
Rated Power(Kw):85
Gear: 2 Forward 2 Back, Front Wheels Steering
3. Large self loading mixer machines are AS-5.5 and AS-6.5 for sale in AIMIX. And their concrete yields are 5.5m3 and 6.5m3 for each batch. Hence, they are able to make about 22m3 and 26m3 concrete for each hour. Due to their large concrete outputs, they are widely applied for concrete brick production lines, road paving construction, bridge construction, and other large-scaled construction projects.
5.5m3 Self Loading Mixer Machine
Capacity: 5500(L)
Model: AS-5.5
Discharging Capacity(L): 5500
Concrete Output(m3/h): 22
Engine Model: FAW XICHAI 6110 Turbo-Charged
Gear: 2 Forward 2 Back, Front Wheels Steering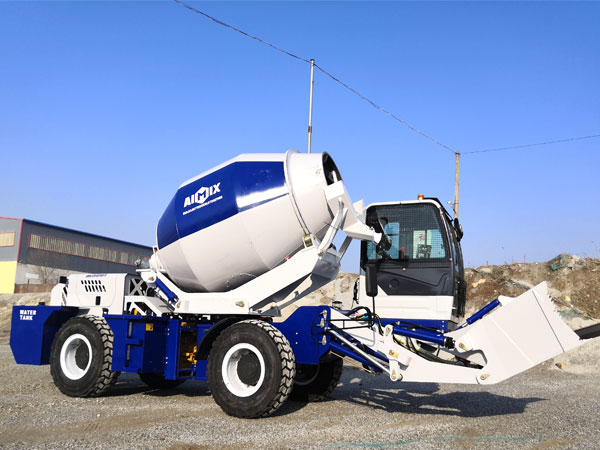 6.5m3 Self Loading Concrete Mixers
Capacity: 6500(L)
Model: AS-6.5
Discharging Capacity(L): 6500
Total Hydraulic System Capacity:278 Liters
Rated Power(kw):92
Engine Model:Weichai deutz 6105 Turbo-Charged
After-sale Support By AIMIX GROUP in Malaysia
As one of the top leading self loading concrete mixer manufacturers, AIMIX GROUP has been researching and producing self-loading mixers for over 30 years. AIMIX not only focuses on the product quality but also the after-sale service. We are committed to gaining good praises from each of clients and long-term cooperation with everyone. Please go on reading to check what service can AIMIX provide in Malaysia. And please feel free to contact AIMIX if you have any need for our machines or services in Malaysia.

AIMIX offers Turnkey service in Malaysia. Turnkey service includes custom clearance service, product delivery service, installation service, and training service.

AIMIX has sold over 1000 sets of self propelled concrete mixers to Malaysia. We can arrange you a visit for our machines all round the Malaysia.

AIMIX has several local partners to provide maintenance service whenever you need in any place in Malaysia.

AIMIX has 60-people after-sale service team who has skilled shipping experience to plan the ways of shipping, including ocean shipping, rail transportation, or car transportation and find the most cost-effective way to help you save shipping fees.

Uses of Self Loading Concrete Mixer in Malaysia
According to its unique features, the portable self loading concrete mixer can be used for many different construction scenes and projects. I will list some applications to help you make a decision.
Production of Concrete for Making Precast Products
Self concrete mixer can complete self-weighing and loading cement and sand to the mixer, and then mixing all the materials with water and turning them into concrete mortar by itself. At the same time, it can freely transport every batch of concrete from one position to another position. In other words, it is a good on-site mixer and can replace a small type concrete plant and a concrete mixer truck to provide concrete for you for the sake of making prefabricated panels, precast slabs, and so on. Therefore, it is a good choice to buy a small self loader concrete mixer if you own one prefab factory and need a mini batching machine in Malaysia.
Usage for Concrete Pouring Work
With comprehensive capabilities, it can be regarded as the combination of one wheel loader, one cement mixer and one truck mixer. Hence, it can accomplish the placing of concrete for the foundations, floors, grounds, and so on. What is more, thanks to its superior mobility, the self loading concrete mixer plant can save you 6-7 labor cost and transportation time for your concrete pouring works. What is more, it usually cooperates with the diesel type concrete pump to pour the concrete to a remote position.
Making Concrete for Self-built House Construction
If you are a building contractor in Malaysia, then you should try to buy one set of our self loading mobile concrete mixer. With accurate weighing system, it can produce qualified concrete with various hardness to meet your different requirements for your building construction. As we all know, the walls and the floors will need different concrete strengths. Aimix self loading mixer machine can produce both C30 and C40 concrete so that you can use it to make concrete for you own and will have no need to buy any ready mix concrete from any local suppliers with a lot of money.
On-site Producing Concrete at Rough Terrains
Self loading rough terrain concrete mixers have excellent 4 wheel drive and climbing performance to freely travel on the mountain roads with gradient of 30 degrees. By the way, because of its 270-degree rotating mixer drum, the rough terrain concrete mixer can discharge the concrete out at any angle and would be the perfect choice for mountain road construction and narrow road construction.
Customer Feedbacks from Malaysia
Aimix self loading transit mixers can save you abuot 6-8 labor for your construction work and reduce your construction period. Hence, our self loader concrete mixers are hot sale for your small-sized or medium-sized construction projects in Malaysia. And here I will attach some successful customer feedbacks to show you the applications of our self mixers.
3.5m3 Self-Loading Transit Mixer Working in Prefab Yard in Malaysia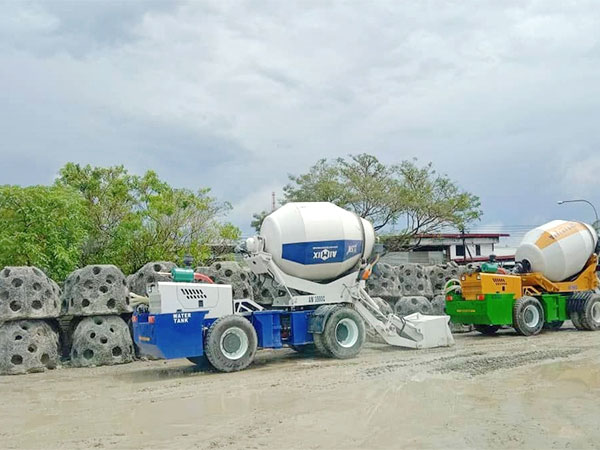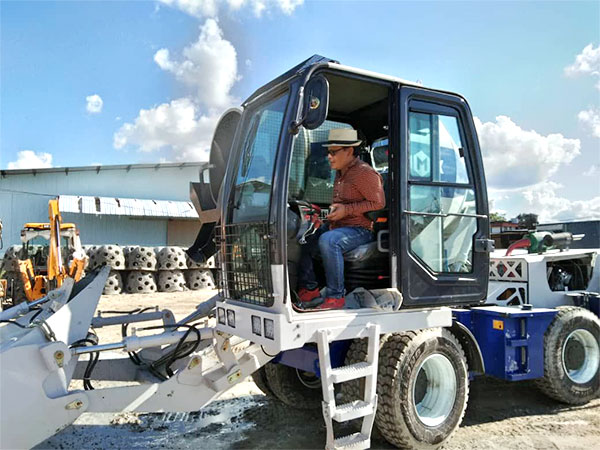 4.0 Cubic Meters Self Loading Mobile Concrete Mixer Working for Foundations Pouring in Malaysia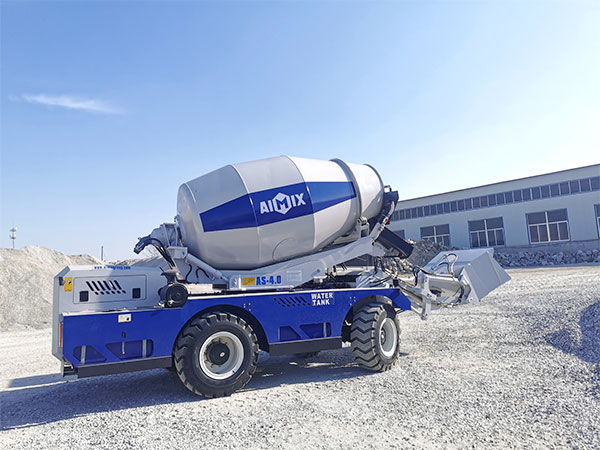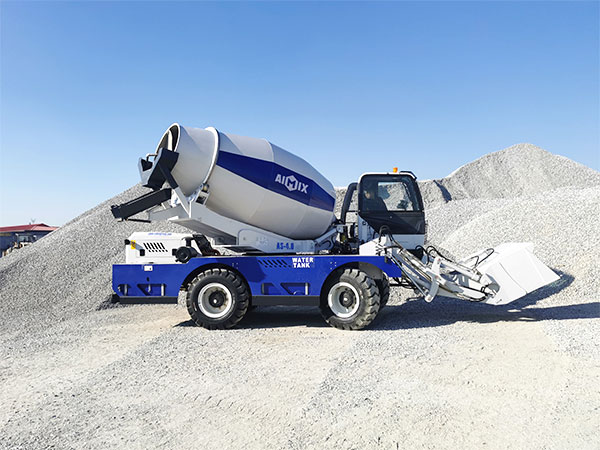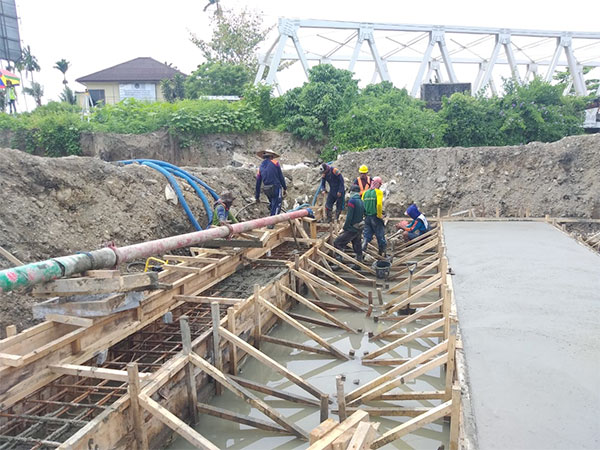 3.5 Cubic Meters Self Loading Transit Concrete Mixer Working for Making Precast Slabs in Malaysia
Applications in Global Areas
As one of the self loading concrete mixer manufacturing companies, AIMIX GROUP has exported over 5000 sets of China self loading concrete mixers to all around the world, including Malaysia, the Philippines, Myanmar, Nigeria, Kenya, UK, USA, and so on.
4.0m3 Self Loading Concrete Mixer with 60m3/h Trailer Pump Working for Foundation Pouring in UZ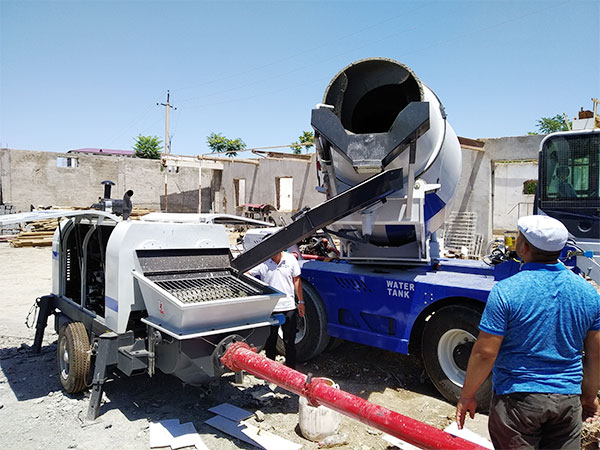 3.5m3 Auto Loading Concrete Mixer Working for Road Paving in Myanmar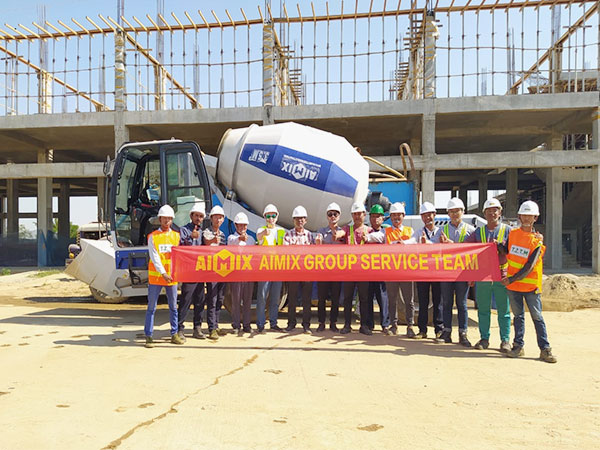 5 Sets of AS-3.5 Self Loading Concrete Mixers Working for Fire Department Construction in UZ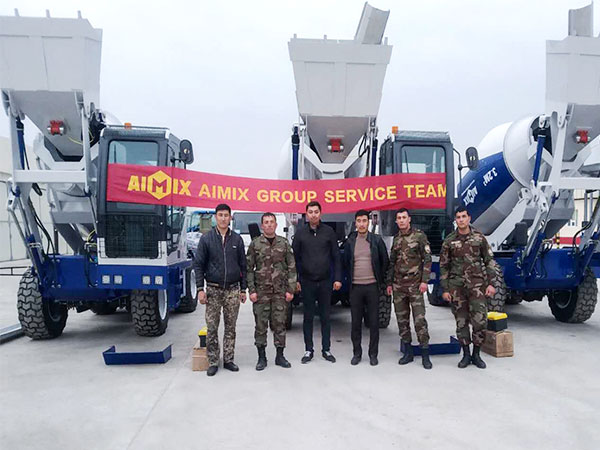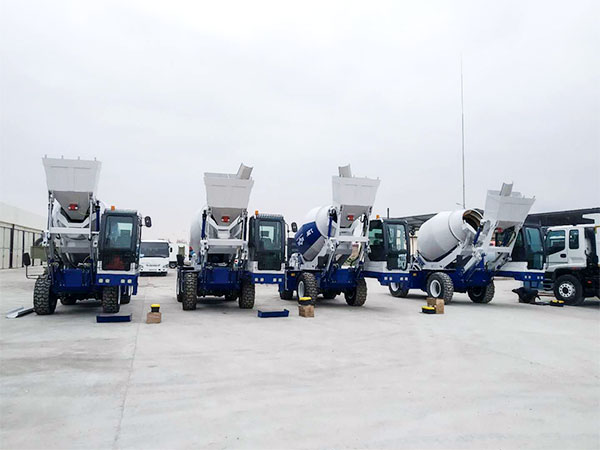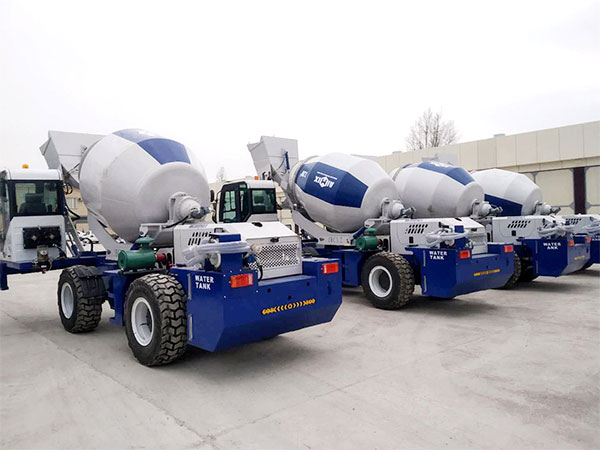 How Does the Self Loading Concrete Mixer Work?
AIMIX equips each unit with an automatic control system thus it can be easily operated. Our self mixer only needs one driver sitting in the cabin to handle all the operations. However, I also attach one self loading concrete mixer working video and I hope it will help you to understand how it works. And please remember to tell us your needs for further details and specifications of aimix self-loading mixers at any time.
Firstly, you can sit down in the cabin with air conditioner, then start the mixer and turn on the electronic screen. Next, you will see many menus that control each move of the mixer.
Next, you can start the feeding operation and use the bucket to carry the sand, cement, gravel or other materials one batch by one batch. In this process, the weighing system will start to work to accurately weigh all the materials in the bucket and finally load them to the mixer through the feeding port. You won't need to worry about whether the quantity or weight of the aggregate materials are precise or not since the weighing system will play the role in measuring all of them.
Afterwards, you can control the mixer and make it start to whirl to mix all the mixture. At the same time, you should add some water to the drum. Each self concrete mixer machine is equipped with a water tank so that you can easily add water.
During this process, you can monitor all the operations by the computer screen. When the mixing is finished, the screen will show you a notice. And the mixing time for one batch will last for 15 minutes.
Then, you can choose to discharge the concrete out for now or drive the mixer to another place to unload the concrete out. That is up to you. What is more, you can check the drum capacities on the screen to decide whether stop the discharging operations or not.
Finally, you can start another batch of concrete when all the concrete is discharged out to the ground through the chutes.